Top Five Best Pigs Breeds That You Should Keep for Commercial Use-With Pictures
· Essex Pig: Characteristics, Origin, Productivity & Pictures
This is a domestic pig traditionally known as a small sized pig. Essex pigs have coat coloration and pointed ears and this feature make these type of pigs unique as compared with other breeds.
Most pig breeders lack information on this breed and this could be the reason that most keepers don't keep them in their farms.
This post will provide information on the main characteristics, origin and history about this breed.
Origin
Essex pig originated from UK and they were developed from carefully selected breeds of wild pigs, notably they have white fur and coarse black. These breeds are cheap to manage and they are very popular in The UK. Charles Western did the improvement in 19th Century and this breed has been improved by cross breeding them with the popular imported pigs.
Due to their popularity in 1950s across the UK, Essex Pig Society was established in 1997 and this acceralated its growth to other parts of the world.
Essex Pig Characteristics
Size and Weight
They are traditionally small in size but you will find medium size because of the cross breeding. Boar average weight ranges from 100-110kgs while sow weighs between 91-105Kg. This type of breed is not highly recommended for pork Production.
Temperament and Behavior
They are tamable, friendly, calm pigs and they can be kept in small farms or as pets.
Climate Tolerance
Though they can breed in numerous countries with good management and care, they do well in native climatical conditions.
READ ALSO: TOP 10 BEST EGG LAYING CHICKEN BREEDS IN AFRICA



Coat Color

They have white band on their shoulders but they are typically black, This white and black colors is what makes them unique.
Care and Management
They are simple to manage and they are can feed on foragers as well as artificial feeds, it's good to note that they can look for their foods as well.
Pictures
Below are pictures of this unique breed of Pigs
· Duroc Pig: Characteristics, Origin, Uses and Pictures
Duroc pigs have been there for some time, a lot if studies show that they are among the oldest breed of pigs across the world with origin from the United States.
If you are planning to keep this type of breed in your farm, it's important you learn more on how you can successfully have these in your farm. This post will provide you with detailed information about the main features, origin and history, Uses and production rate of this breed.
Origin
Duroc can be traced in Africa but some improvements have been done in England. Recent cross breeding have brought some key features of New York older Duroc and jersey red.
Originally they were used for meat production in 1950s. What makes them ideal for commercial use is that they mature very fast and they have hard muscles.
Duroc Pig Characteristics
Size and Weight
They have long body-shape and are medium sized; their dished mouth like make them unique if you compare them with Berkshire pigs.
The approximate weight of boar weighs from 228 to 345 Kg while mature sow weighs 205 to 300 Kg.Their fleshy made muscles makes them the best meat pig producers.
Ear Shapes
Ears are usually dropped and small in size and they look much the same as Jersey red pig.
READ ALSO: TOP GUIDELINES ON HOW TO START A DAIRY FARMING BUSINESS IN AFRICA



Skin Color

Their skin is usually orange brown but these colors varies and they can range from deep red mahogany and golden shade light.
Climate Tolerance
They are robust and hardy. This important feature allows them to fit in diverse weather conditions. Also, this hardiness make them develop muscles faster and also to mature fast.
Temperament Behavior
The pig breed is described as one of the least aggressive breeds of pigs. They have relatively calm temperaments making them suitable for novice breeders.
They are known to be one the less aggressive breed as compared to other breeds; they are calm, low temperament and this is a good feature for beginners.
Production Rate
They are known to produce high number of litters, They grow very fast and suitable if wish to grow your numbers of flocks and highly recommended for large scale business.
Uses of the Pig Breed
Used for Both meat and to grow the flock
Duroc Pictures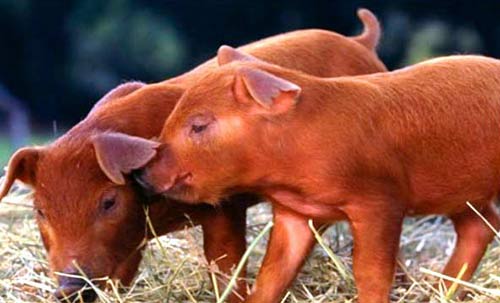 · American Yorkshire: Origin and Characteristics
Many young breeders usually get confused due to large information of American Yorkshire pigs breed. This breed is unique from Chester White and it is well known for meat production.
History and Origin
This breed is common in United States as a domestic pig, from the records this breed came from England and domesticated in 1930.
The advancement in technology has brought in high improved Yorkshire pig breed that are very big in size and weight lots of Kilos and this has made this pig to stand out. These pigs are found in all major states in the USA. The most common once being Indiana,Illinois, Nebraska,Ohio and Iowa.
American Yorkshire Swine features
Weight and Size
Yorkshire swine pig are large seized pigs, Boar usually weighs 251 to 350 Kg while sow weighs 205 to 300Kgs.
Climate Tolerance
They are robust and hardy and they do well in several weather conditions and they are well known to endure any weather conditions.
Temperament and Behavior
They love rolling and they are very outgoing-They love mud, however they are friendly and calm and generally known as outdoor breeds.
Fertility and Maturity Rate
They birth around 12 Piglets, are highly fertile and they mature very fast and notably this is the main reason they are well known and the greatest source of pigs well documented across the world.
Productivity Rate
They have very tasty meat due to their outdoor nature, they have high production rate and their piglets matures quite fast.
American Yorkshire Pig Breeds Picture
Pictures
· Arapawa Pig: Characteristics, Origin, Productivity and Pictures

These are domestic swine with some wild pig features like mane growth and this feature makes them adorable.
A fact about this pig is scanty and most breeders have less information and how they can breed this type of pigs.
Arapawa Pig Origin
Historical records show that this is a feral breed of pig that originated from Arapaoa Island in New Zealand.
Its origin can be traced from New Zealand
Arapawa Pig Characteristics
Size and Weight
They have a hairy body, generally small and the mane makes them to look like wild pigs. Mature show weighs from 90-110 Kg while mature adults weigh 125 to 182 Kg.
Tail and Nose Sizes
Nose and tail are brooders and shorter if you compare it with Auckland island.
Growth Rate
They usually have a much slower rate of growth and takes time to mature up
Skin Color
They have black batches, skin is sandy and their bellies and legs have black sports. They also have a small body size.
Temperament and Behavior
They are alert and active and lack an aggressive temperament which is common from other breeds.
Climate Tolerance
They do well in native climatical conditions and they don't do well in dry and hot environments.
Productivity Rate
They have mature very slow and hence not recommended if you want to venture in commercial pig farming.
· Dutch Landrace Pig: Origin, Characteristics and Pictures
Netherlands is its other name and have unique features that makes them identifiable from far.
Dutch Landrace Characteristics
Size and Weight
They are large to medium and have a well-built appearance with dropped ears. Sow weighs 205 -275 Kg while adult once weighs 227-319 Kgs this makes them ideal for commercial farming.
Climate Tolerance
They are robust and hardy and can do well in all climates.
Temperament and Behavior
They are intelligent breeds with strong smell sense and ever clean. They are usually calm.
Productivity Rate
Very fertile and they are good mothers as well as fleshy meat.
Skin Color
They have pink body and they are white in color, this feature allows spotting of any disease.
Landrace Pictures