TOP 10 BEST AFRICAN PRINT SWIMSUITS DESIGNS
1.)African tribal multi string bikini

One can wear the African tribal bikini to draw more attention to certain parts of your body other than the breasts. It is normally designed for the girls with small breast sizes.
2.)Bohemian Dashiki Print Swimsuit
The swimsuit is beautiful and good looking. The strings bind together the swimsuit into one piece and also adds on the quality of the structure of the swimsuit. An extra detail is added by the cold shoulder long sleeves designs. It is also design for the ladies with small sized breasts
3.) African Print Halter neck Bikinis
Here is another swimsuit designed for the ladies with small sized breasts. This design draws all the attention to the beauty of the lady's neckline unlike the African tribal design that draws only attention other than the breast.
4.) African print sling swimwear
Also designed for ladies with small sized breasts. Designed for a sexy but classically looking look.
All the above designs can fit all ladies with small busts comfortably since the breasts will not pop out while swimming.
5.)African kitenge print laced bikini
Designed for ladies with big sized breasts. It covers all the chest area in such a way that ladies with large sized breasts feel comfortable.
6.)African print corset swimsuit
For ladies with large sized hips and thighs, this type of swimsuit is very convenient with them. It should draw attention to other parts. This type of swimsuit is in varied types such as with high cut leg lines, boy short cuts. You can 4wear a brightly colored bikini top and a dark solid shade to achieve a good shape and structure. You can also go for the one with details around the neckline, waist, shoulders or bust. By doing this, you draw more attention to the parts around your upper body other than the hips and the thighs.
7.)Traditional African print multi colored swimsuit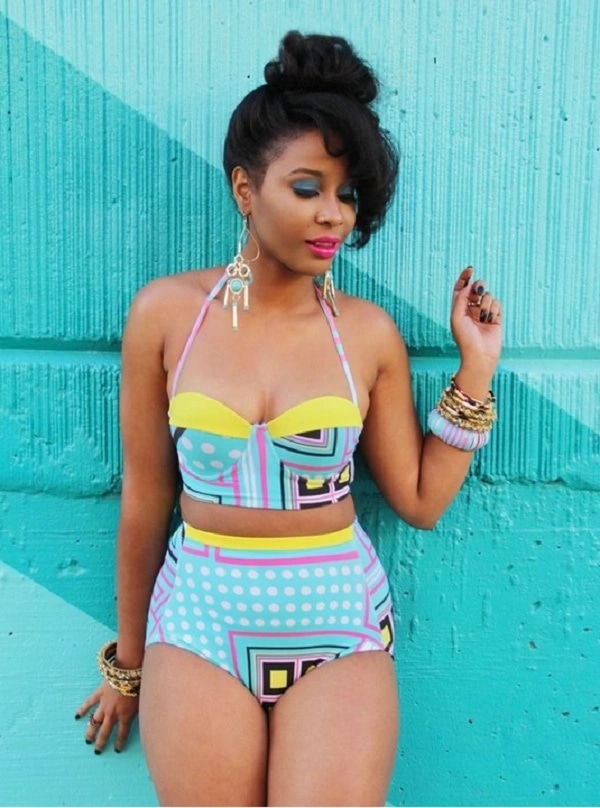 It draws most of the attention by the brightly colored top with details. Appropriate for both plump and slim ladies who accept their body size.
8.)Dark colored dashiki swimsuit with bright and intricate prints
With this design, you can enjoy your swimming sessions without people noticing your flaws.
9.)High cut African print bikini
If your figure is straight, choosing the African print swimwear is very much advisable. It has bold prints, cutouts or any other dimensional details .It is designed with suitability that fits ladies with large sixed busts.