TOP 10 AFRICAN PRINT PENCIL SKIRTS IN 2020
Africa's native styles are here to stay. This explains why the African print especially pencil skirts are becoming more popular among the people. This is shown by their presence in the markets. This skirts are not only elegant but also versatile and thus every woman wants to have them in her closet. This skirts tend to flaunt the different shapes of African women.
1. AFRICAN PRINT PEPLUM PENCIL SKIRT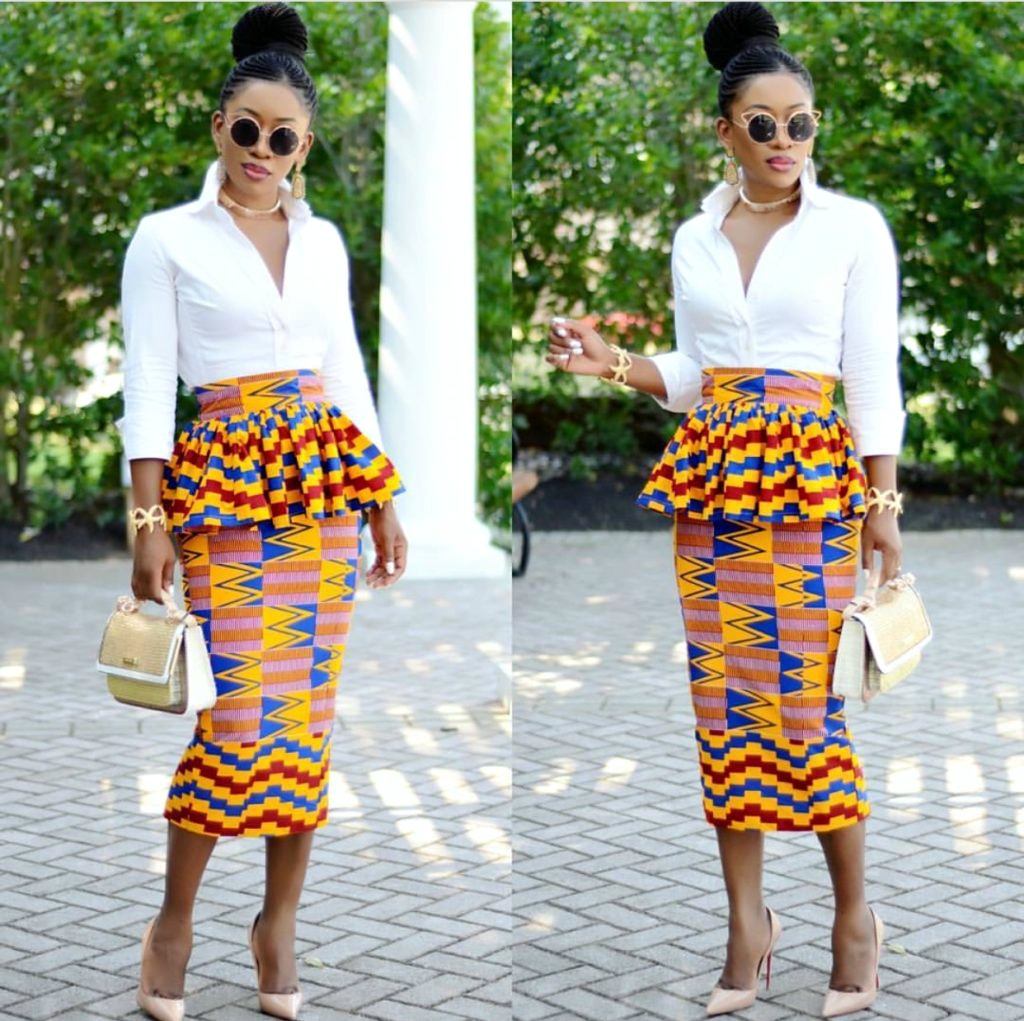 This design skirt is ultra-stylish and unique.it has a double peplum waist which not only displays a classy female but also a bold personality. It can be worn to the office when paired with a good top for an official look or even for a lunch date.
2. THE FRONT TIE AFRICA PRINT PENCILS SKIRT
This type of a skirt is one of a kind. It not only gives one a super look but also plays a major role in achieving a stylish and upscale look. This skirt offers a good fit for women who wish to show off their curves. This skirt can be worn in the office or even during casual outings.
3. THE FRONT SLIT AFRICAN PRINT PENCILS SKIRT
The beauty of an Africans print skirt is known to every stylish lady. It often comes as a high waist and is perfect for many occasions. This type of skirt allows one to show off their African legs.
4. BLUE AND YELLOW PATTERNED AFRICAN PRINT PENCIL SKIRT
One reason that this skirt is really known for is it comfort. It displays a sense of style in any woman who puts it on.it can be own to the office especially when matched with a plain colored blouse.
5. AFRICAN PRINT PENCIL MIDI SKIRT WITH PEPLUM HEM
This skirt could be termed as a master piece for any lady who understands African print. It is dynamic as it can be paired with different top designs to suit any occasion.
6. THE CURVE HUGGING AFRICAN PRINT PENCIL SKIRT
This kind of African print pencil skirt is decent enough for a church and also crazy enough for a date. It can be worn to any occasion depending on what it is paired with that is the top, shoes and even handbag.
7. AFRICAN PRINT HIGH WAIST PENCIL SKIRT WITH POCKETS
There is a belief that every stylish lady has one such skirt. The pocketed nature of this skirt makes it an outstanding and so does the person wearing it. This skirt looks good especially on those who love to have it with a crop top and makes one catch attention of almost everyone. It brings out confidence in a woman when on a dinner date.
8. THE ANKARA TRIBAL PRINTS AFRICAN PRINT PENCIL SKIRT
This skirt is a must have for every stylish modern woman. This skirt is mainly loved since it suits many occasions . Depending on the top, shoes and handbag it can be won on both casual and official occasions.