Tips on How You Can Make a Fortune from Pig Farming In Kenya and South Africa
Pig farming is one of the lucrative Agri-business ventures you can try in south Africa and Kenya. Pig farming is done commercially to get better yields. Kenyans are health cautious and appreciate the vital benefit that pork offers their bodies. Large towns in South africa and also in kenya like Thika, Nauru, Nairobi, and Kiambu have large pork consumers. Pork prices have skyrocketed in recent years due to the demand for pork-related products. The number of people consuming pork sausages and smokies daily is very high in the country. In every town you visit, you will not lack to see several sausage and smokies, street vendors. This is a clear indication of what demand looks like.
READ ALSO:TURKEY FARMING: HOW YOUNG KENYANS ARE MAKING MILLIONS IN TURKEY FARMING?

In this article, I have done extensive research on various topics related to pig farming that will be of importance to you. First, let us learn the different types of pigs you can rear.
Types of Pigs You Can Rear In Kenya
Combrough Pig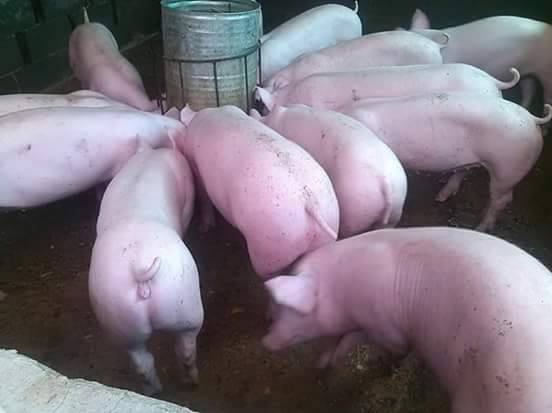 This is a pig swine breed that is famous for its lean meat. Combrough pigs are great for crossbreeding. They are known for genetic qualities like growth rate and weight gain improvement of other breeds. These pigs docile in the nurture and have excellent maternal instincts. For crossbreeding, have one boar to two or three sows of another pig breed.
Large White
The large white pig has ears that are erected and a mouth that is slightly dished. Their bodies are long and broad and have white coloration. These pigs are mainly used for their bacon and make an excellent ham. They have great mothering instincts and can adapt to changing climatic and environmental conditions with ease.
READ ALSO: How You Can Make Your Own Pig Feeds For Piglets ,sows And Boars At Home

Landrace pig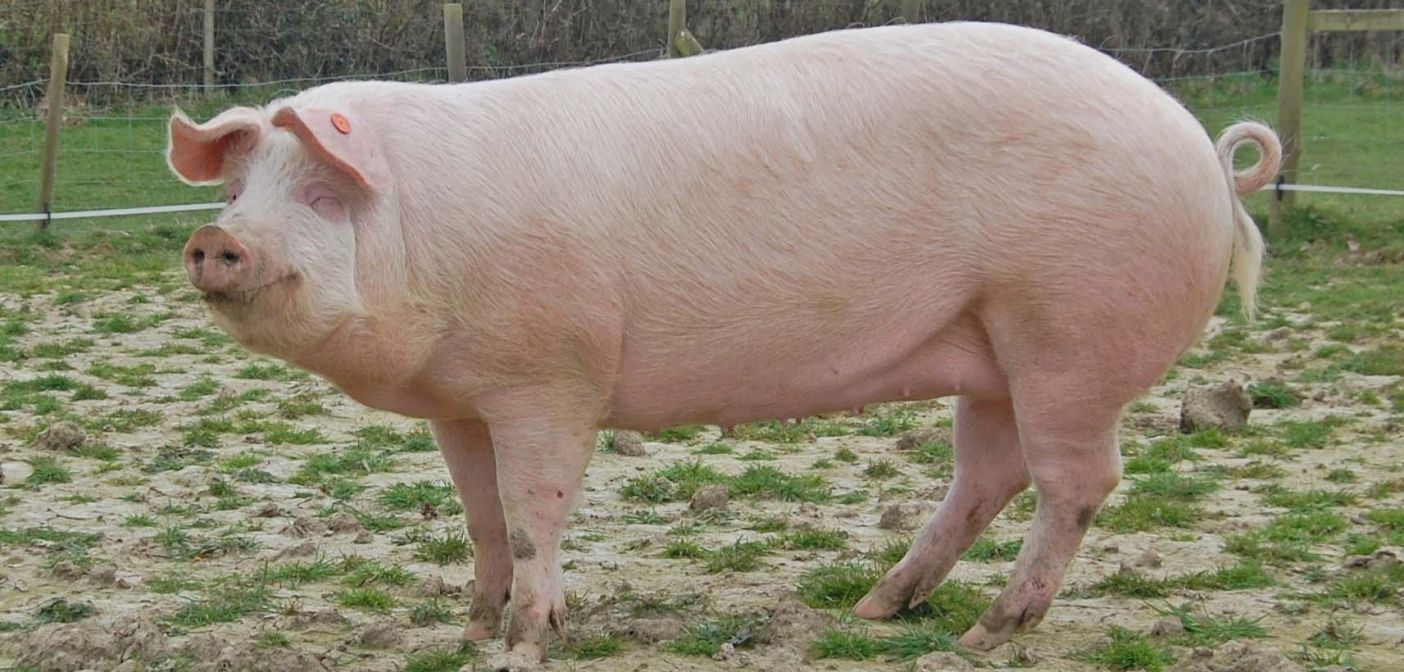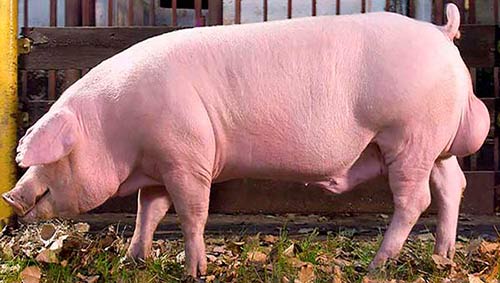 They have drooping ears, a long snout, and white coloration with beautiful hair. Their meat is known to produce good bacon. They do not have excessive fats and have smooth bodies. They are known for their high reproduction of piglets. However, their maternal instinct is not as high as the other pigs.
Duroc Pig
Duroc pigs have a golden brown color with a tough skin coat. Their ears are small and droop slightly. Their bodies have broad shoulders and are long. Duroc pigs are the least aggressive breed of pig with superb maternal instincts. All over the world, they are used as sires. They are characterized by a fast growth rate.
Hampshire Pigs
They are characterized by a black body and erected ears. They have a white band that is broad on the front legs and middle body. Their maturity rate is low, with faster growth rates. This pig breed is most common in the United States.
READ ALSO:GERMAN ANGORA RABBIT BREEDS INFORMATION IN KENYA

Advantages of Pig Farming
Pigs will do well in different corners of this country due to the country's favorable conditions. Here are some benefits you will get from farming pigs.
1.) Pigs require minimal investment to start
2.) The pig's gestation period is short and produces several piglets that grow faster than other livestock.
3.) Sows can give birth twice a year.
4.) The demand for pork is on a high and increasing demand
5.) Pigs convert their feeds easily and fast, therefore fast fattening.
6.) Pigs are omnivorous and can consume various types of feeds from agricultural waste, roughages, and much more.
7.) Pig farming requires a small rearing space compared to other farming practices
8.) Anyone at any age with the right information can rear pigs.
Insights on How to Start Pig Farming Business in Kenya and South Africa
There are several factors you should keep into consideration when venturing into pig farming. First, let's understand the various farming systems in the country.
Different Pig Farming Systems in Kenya

Free Range Farming
This farming system is the most traditional in the country. Before people got enlightened on different farming systems, they would let their pigs roam around and fend for themselves. They would eat in dumpsters or have food leftovers and litter brought to them. However, the free-range system has improved where you can feed your pigs with grass and Lucerne and some food supplements. It is cost-efficient and can be started on a low budget.
Intensive Pig Farming
This is a rearing system done in a closed area. You feed your pigs with a lot of foods and adequate supplements. The pigs are reared for meat production. Most of these farmers have a direct market. It is costly and labor-intensive. It requires high capital intake to start.
READ ALSO: How A Young Pig Farmer In Cape Town Is Making His Own Feeds To Cut On Cost

Semi-Intensive farming system
This system rears pigs in a semi-permanent structure. The pigs are fed with feeds from both the farm and pig feeds. They are labor and cost-intensive. However, it does not require much capital like intensive pig farming
Whichever types of farming you select to ensure that you provide your pigs with the right nutrients and living conditions. Having done this, you will yield enormous profits from them.
Requirements to Start Pig Farming
Location
First, you must locate a suitable farm to start the venture. You can either buy land or rent land deepening on your preference. The site must have reasonable access to water, proximity to the market, excellent transport services, and security. Consider the number of pigs you intend to rear then select the land.
Breeds
Earlier on, I have elaborated on various types of pigs you can rear. When selecting the breed, consider your environment and the purpose of farming. Consider the number of piglets you will get and the growth rate of the animal. When considering the kind to choose, there some characteristics that all pigs must possess.
1.) Their eyes must be bright
2.) Good temperament
3.) Glossy coat
4.) Normal and can easily move
5.) They must be good feeders
6.) The pig must be alert and responsive
7.) They should not have any deformities from coat, eyes, ears, legs and much more
8.) Do not buy a very aggressive pig
READ ALSO:BRAFORD CATTLE : WHY YOU SHOULD KEEP THIS BREED -WITH PICTURES

Feeding
You must research on the various types of pig feeds. Know in detail what each food contains and what benefit it will have to your pig. Know which company produces pig feeds that are of excellent quality. The type of feed you will give to the pigs will influence the kind of meat it produces. Have information on the quantities you must provide to each pig in a day.
Fertility
Depending on the breed that you select, you should consider their productivity. Do you intend to have many piglets? Are you going to increase your pigs by buying them or rearing the piglets to adulthood? How fertile is the pig you have bought? Since you are in this business for the money, you should know how fertile the pig that you buy is? How long will it take for the pigs to mature?
Housing
You must have an idea of which system you will use. Have permanent structures. They should be adequately ventilated and proper waste disposal areas. The temperatures should be favorable for both piglets and pigs. You must separate the piglets from their mother at a particular stage. Have a clean area to avoid the contraction of diseases.
Marketing
You want o get profit from this venture. Know your market. Know who you will be selling to the pigs or the bacon. You can market your products online or in markets. Go for animal expos and shows to learn more.
Finally, there is nothing that lacks its negative side. Below are some challenges you may face in this venture
1.) Challenges in pig farming
2.) High animal feeds costs
3.) Inadequate transport systems limited knowledge on pig farming
4.) Religious factors
Good luck as you start your journey to making millions in this business