Jalang'o Biography, Education, Career, Girlfriend and Wealth
INTRODUCTION
Felix Odiwuor, also known as Mzee Jalang'o, is most liked and outstanding comedian who also outshines up as master of ceremony. He was born and raised in Homa Bay County in the western region of our great nation Kenya.However behind his fame, there is a disgusting long tale for his success. His story is his very mystery of struggles but with a lot of lesson mostly for youths.
READ ALSO:How To Propose To A Lady For The First Time

You might be thinking that Jalang'o is from fame and rich family or background but you are ultimately wrong. His fame and status now is compared of grasping a piece of meat from lion's teeth. Like most famous people, he rose from the humbled background to the top crème of the society. His, is a story of determination and the fruits of hardwork.
Jalang'o profile
Born: Homa bay town
Origin: Kenyan
Marital status: Married
Occupation: Comedian/emcee/Radio Presenter
Facebook: Phelix Jalang'o Odiwuor
YouTube: JALANG'O OFFICIAL
Twitter: @JalangoMwenyewe
Jalango biography
Mzee Jalang'o was born and raised in Homa Bay County. He was raised from a very humble background where his parents were just native farmers who would work hard every day to make sure that they place something on the table. Most of times some of the basic needs were hard to come by. His family went through numerous strains and struggles, and in some instances, the most basic needs, like food was considered so luxurious from anything else.
Felix Odiwuor began his primary education in Homa Bay Lake Primary School which was a long distance from his home. He would wake up very early in the morning and walk the entire distance for him to catch up with the school programs. For a period of eight years in primary school, Jalango would walk barefooted, walking in the morning dew and on the heated ground with the scorching sun overhead. Most of times, the renowned radio presenter would go back home for lunch only to find that there was no food to put in his stomach.
READ ALSO: Top Cinemas In Kenya

For Jalango surviving on water and getting back to school was a routine. With all the struggles and miseries, he did not give up hope in life. Jalango has worked in various radio stations. He has been a co-host in one of the biggest radio breakfast shows in this nation. He made his first radio presentation in Kiss 100, and after that, he moved to Radio Maisha, the best-ranked radio station in this country.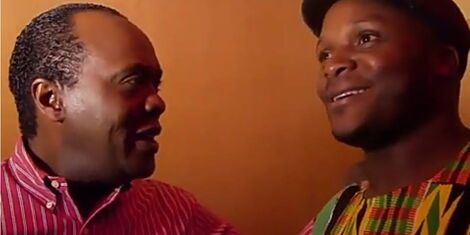 After a while joined hot 96 FM where he met one of the most liked shows together with one of the most talented television personalities by name, Jeff Koinange. Jalango now joined Milele FM where he is expected to host a show with his former workmate Alex Mwakideu. Jalango became famous after his first appearance in the Papa Shirandula show on citizen TV
They had planned with to appear in a single scene where they were to be the relatives of Wilbroda- Papa Shirandula's wife. They were to attend their sister's wedding ceremony and represent other relatives from Ugenya- Wilbroda's rural home. For it was their only scene, they were to perform, they did their best until they were incorporated in the other skits
Jalang'o education
Jalango completed his 0 level educations at Homa Bay Lake Primary school and managed to score 427 marks out of possible 500 marks. Despite all the challenges, miseries and embarrassments he worked hard. As the saying goes, 'hard work pays' , he managed to get a chance in Maseno School which is one of the top performing national schools in Kenya.
As the reporting date was nearing his father was working very hard to get his school fees which was way higher compared to the local secondary schools. They had to call relatives and friends to organize a fundraising to help his father raise the fee. One week later, they got amount of fee was needed but things didn't go as it was planned. For they had delayed for a whole week last the reporting date,
It was a doom moment for Jalango and his family for him not to be admitted to be admitted into such a good performing school. Jalang'o was stranded with his metallic box on his hands fully dressed in Maseno School uniform. They didn't know their next move but only left with an option of trying local schools around their village.
After those demises, they secured a chance at one of local schools, Bar Kanyango Secondary School in Siaya County. Jalang'o was admitted there, but he could still put on the Maseno School uniform since his father had no extra money to buy him a new uniform. School fee became another huge challenge at Bar Kanyango Secondary; therefore, he was again transferred to Nyang'oma Secondary School that is located in Bondo Constituency where his brother was studying. Raising the fee for two students was not easy for Jalango's father as one might think.
It was not an easy task to do but an unbearable decicion was to be made, where George, his elder brother was forced to drop out of school to give Jalango a chance to continue with his studies. Making this decision was discouraging not only for George but also Jalang'o. The father could pay the school fees with anything he had at hand. At times, he would supply the institution with firewood, beans, and maize. Jalang'o felt embarrassed whenever his father would come to school particularly during the assemblies carrying sacks of maize or beans. His fellow students didn't spare him either
Finally, with all, struggles and embarrassments, he managed to get a C plus in his KCSE exams. For him this, was equivalent to an A plain in a national school like Maseno. Nyang'oma, as a school, had no facilities from learning aids to teachers. One had to do his research to enable him to understand various aspects like how to carry out the practical tests. Due to the lack of facilities, these students met laboratory apparatus for the first time during their KCSE practical exams which were performed in a neighboring school.
It's obvious for students to join colleges and universities after successful completion of secondary education. However, for Jalang'o, things were opposite. He noticed that neither his father nor any other family member ever talked to him about pursuing further education. With his curiosity, he gained courage and approached his father and asked whether he was going to join a university or a college the same way other students did. His dad burst out in laughter- something he had never seen him do in all his lifetime- looked at Jalango straight in the eye and asked him to imagine how he had struggled to pay his secondary school fees
This was so unfortunate to Jalango since he could not join any institution of higher learning the same way his colleagues were doing. Jalang'o was heartbroken because he could not continue with his studies.
Jalang'o career
Jalango had no other option other than to find 'any' job for he was unable to continue with his higher learning. He got his first job as the fisherman. He would sacrifice his sleep to go at midnight at the lake at time when the lake is riddled with mosquitoes, just to get some fish to sell to the business people who awaited by the shore.
He did this for quite sometimes and later joined Capital Fish Company Limited where he worked as a fishmonger. This company would buy fish from the local fishermen, process it and pack it for transportation to other parts of the country. He could work tirelessly packing fish into the large coolers used for transportation at very low price. This was his daily routine.
Later on, he decided to go to Nairobi where he was hosted by many relatives. He first stayed with his uncle in the posh Lavington estate. He later went to stay with his uncle in a quarry in Embakasi slums where he ventured into arts, which he embraced since his childhood. Life in Nairobi was not a zone of comfort for him. He would toil every single day to help his uncle put food on the table.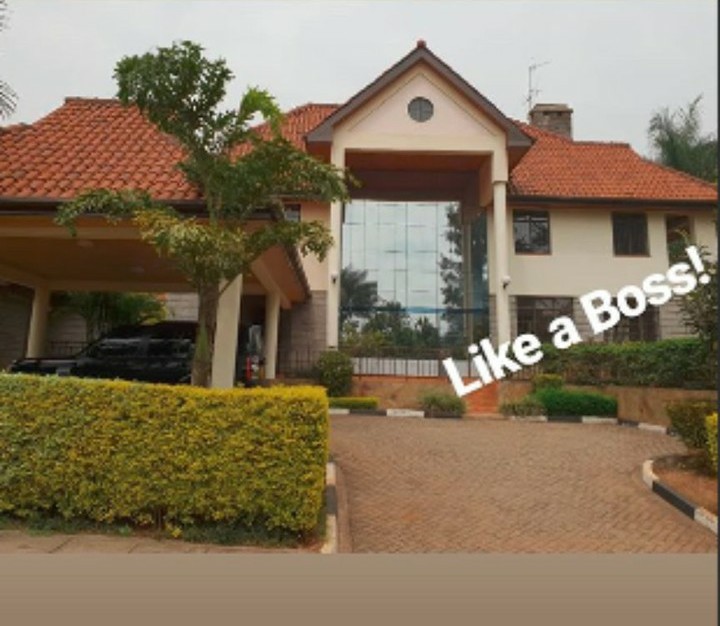 He can do every kind of jobs you cannot think of. He worked at 'mjengo' sites (construction sites), packing of sweets in companies and even car washes. After his daily activities, he would go for theatrical auditions where he was ignored several times. Jalango could not lose hope after all his trials until one day he got a chance for a second cast in an audition in the Kenya National Theatre.
Jalango perfected this for quite sometimes by going for rehearsals each day without missing. His uncle Ochieng' gave him financial and moral support to enable him to succeed in his art. At the national theater, the host actors would not give a chance to minors like Jalango to get to the stage and perform. One day, the theater group went to perform a Swahili set book known as "Mwisho Wa Kosa."
This was to be performed in a school where other schools converged to watch the show . Jalango was lucky enough this day to get to the stage and narrate the introduction part of the Swahili play. Lucky enough he got a chance from one of the actors who had gone drinking the other day and could not make it to the stage. Jalango took the stage, and his fellow actors stood by the windows, others peeping through the curtains waiting for him to spoil the play. interestingly, he narrated the Swahili lines fluently and got a deserved recognition from the students as well as the teachers who were his audience.
His director was pleased since there was nobody from his team had been given such recognition. After getting experience in acting, Jalang'o started performing vernacular commercial plays in the Kenya National Theatre where various prominent people like Prof. Anyang' Nyongo would come and watch. Jalango became motivated by this, and he went ahead to produce his first film entitled "Kibrit Olwar Epii".
With experience which he got from performing those auditions, Jalango luckily got a chance to act in one of the most popular dramas –Papa Shirandula.During that time, the advertisement was made, and various applications were received. Surprisingly, one of the requirements was that any applicant was to be a degree a holder. Despite this requirements, Jalango did not lose hope de. He was interviewed and later was selected for voice testing- and that is how he became a radio presenter.
Since then, Jalango have been on high demand to top radio stations including radio Maisha one of high ranked radio, Hot 96 and currently at Milele Fm. These jobs have made him to get back his higher learning to pursue his bachelor's degree in community development which he believes it will help him to seek parliamentary seat.
Jalango Wealth
TJalango's salary disclosed for it remains his best kept secret, however his lifestyle shows that he owns a company –Arena Media which offers different services such as marketing, brand launches and hosting various events with its latest event being the Sauti Kuu foundation where the guest of honor was the retired president of USA Barrack Obama.
He also has various projects at his rural home. Jalango house which is constructed in his homeland is one of the most expensive investments he has made. Jalango owns a wide variety of heavy machines. He has Range Rover Over finch and Bentley as some of his expensive cars costing Ksh. 20 million and Ksh.18 million respectively. He also has a BMW X6 and Land Rover Discovery which are both red.
Jalango wife
Jalango was married to Cheptoek Boyo, a media personality. After some period of living together things did not work out well for them, and they got separated. The two are now co-parenting their only daughter. He is now living happily with his newly married wife and they have been blessed with a beautiful daughter. Jalango daughter Jalango is a family man with two daughters' Salika and Amani. He spends some of his time with his lovely angels whenever he is not on air.
conclusion
Jalango's life has got a lot inspiring and encouraging motives especially for the youths. Despite the challenges, embarrassments and strains there is always a breakthrough. It advised for everyone to be focused for every kind challenges comes to shape you and understand the nature of life.